Access foreign markets often represents a challenge, due to the competition of local businesses, customs impositions and technical barriers to trade (TBT) that require products to meet a series of requirements generally linked to safety, environment protection or quality features (e.g. if an importing country does not recognise certificates and declarations of conformity issued in the exporting country).
Trusting an accredited CAB helps reduce or eliminate technical barriers to trade, due to the international recognition of ENAC accreditation.
Recognition agreements
ENAC is a signatory to all existing international accreditation agreements, so its accreditations are recognised in over 100 countries. Check the countries where CABs' activities accredited by ENAC are recognised: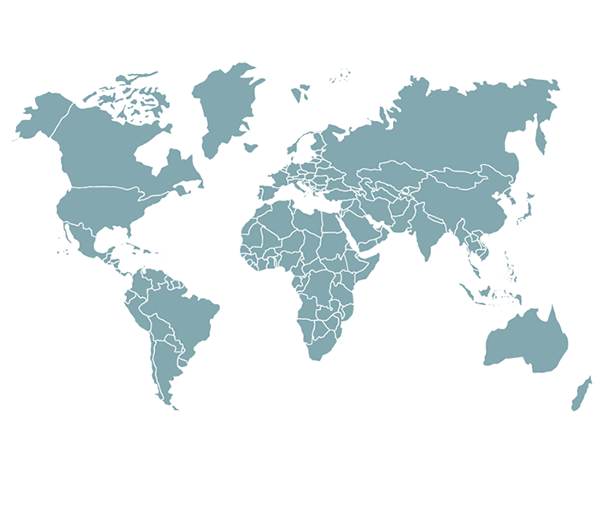 Recognition by the authorities
Accreditation has become an essential tool in internal and international trade, since the European Commission itself relies on it in a wide range of activities and accredited services are recognised by trade regulations in countries such as United States, Ecuador, Algeria, Turkey or New Zealand, among many others.
Member States shall not refuse certificates or test reports issued by a conformity-assessment body accredited for the appropriate field of conformity-assessment activity in accordance with Regulation (EC) No 765/2008 on grounds related to the competence of that body.
Regulation (EC) No 764/2008 of the European Parliament and of the Council
Other international acknowledgements
Due to international agreements, accreditation is also required by organisations that wield great influence on purchasing decisions (industrial associations, non-governmental and consumer organisations, technical centres…) from different countries. It has also enabled these countries to establish sectoral evaluation schemes, leading in an increasing international recognition for Spanish companies.
PTCRB certification for mobile devices administered by the International Wireless Association (CTIA).
WIMAX certification for mobile devices administered by WiMAX Forum.
IEC - IECEE, certification scheme for electronic equipment and components from the International Electrotechnical Commission (IEC).
LOVAG (Low Voltage Agreement Group) certification, safety, functionality and quality scheme for low voltage products.
Certification of the chain of custody and of sustainable forest management, for the authorisation of the PEFC system Spain.
EMVCo scheme formed by the main payment methods (VISA, MasterCard, JCB, AMEX) for the security, functionality and interoperability of banking transactions carried out with smart cards.
Common Criteria certification, a software and hardware security scheme in the IT industry.
RADMAC (Radiators Mutual Acceptance of Certification) scheme, initiative between national certification bodies for domestic radiators.
BRC (British Retail Consortium) certification for British distribution of a wide range of agrifood products, for consumption, packs and packaging, logistics, etc.
IFS, GlobalGAP, QS certifications, schemes established by the main European distribution groups in the agrifood sector.
IAQG (International Aerospace Quality Group) certification, scheme established in the aerospace industry.
Energy Star scheme established by the United States Environmental Protection Agency and the Department of Energy on the energy efficiency of products.
Certification of the new vehicle traffic service, scheme established by ANFAC and the Spanish Ports Authority to meet the needs of the port service, in which a high percentage of export is by sea.
FIFA RECOMMENDED mark, scheme established by the Fédération Internationale de Football Association to guarantee the quality of artificial turf fields.
WaterSense scheme, established by the United States Environmental Protection Agency for water-saving products.
NADCAP, independent certification programme for aerospace engineering, defence and related industries.
A certificate or report must include the ENAC mark in order to benefit from ENAC's international agreements, so we recommend rejecting certificates or reports without it.
Useful information for the exporting company
The first thing is to make sure that the report/certificate includes the ENAC mark or a sentence indicating the accredited condition and the reference number of this accreditation.
Certificates/reports with the ENAC mark: if your certificate bears the ENAC mark, find out whether the other country's accreditation body has signed a multilateral recognition agreement.
If so, contact the accreditation body to explain your situation. Submit the report or certificate as an attachment and ask the body to write a letter or a similar document stating that the report/certificate issued under ENAC accreditation is of equivalent value to a report/certificate issued under its own accreditation. Here you can find an example of the letter that ENAC sends in these situations.
Signatories of multilateral agreements are obliged to issue letters of this kind. If you don't receive one or if you have any queries about the procedure, please contact ENAC.
If you receive the letter and it is sufficient to resolve the problem, we would appreciate it if you would let us know. This is how we can measure the efficacy of the agreement and enhance it on a daily basis.
Certificates/reports without the ENAC mark: ENAC accreditation covers a number of technical activities listed in a Technical Annex to the accreditation certificate. Check whether the activity referred to in the certificate or report (a test required by a particular standard, UNE-EN ISO 9001 certification in a particular sector, etc.) appears in the technical annex of the issuing body. You can do by checking our accredited bodies section.
If the activity is listed, the body is accredited for it but, by its failure to mention its accreditation in the certificate/report, the certificate/report is not covered by ENAC's accreditation or, consequently, by multilateral agreements. Anyway, please contact ENAC so we can examine your case.
If the activity is not listed, the body is not accredited for it.