Atrás
enac-general-assembly-dec21
ENAC's General Assembly meets to present its new business plan and 2022 budgets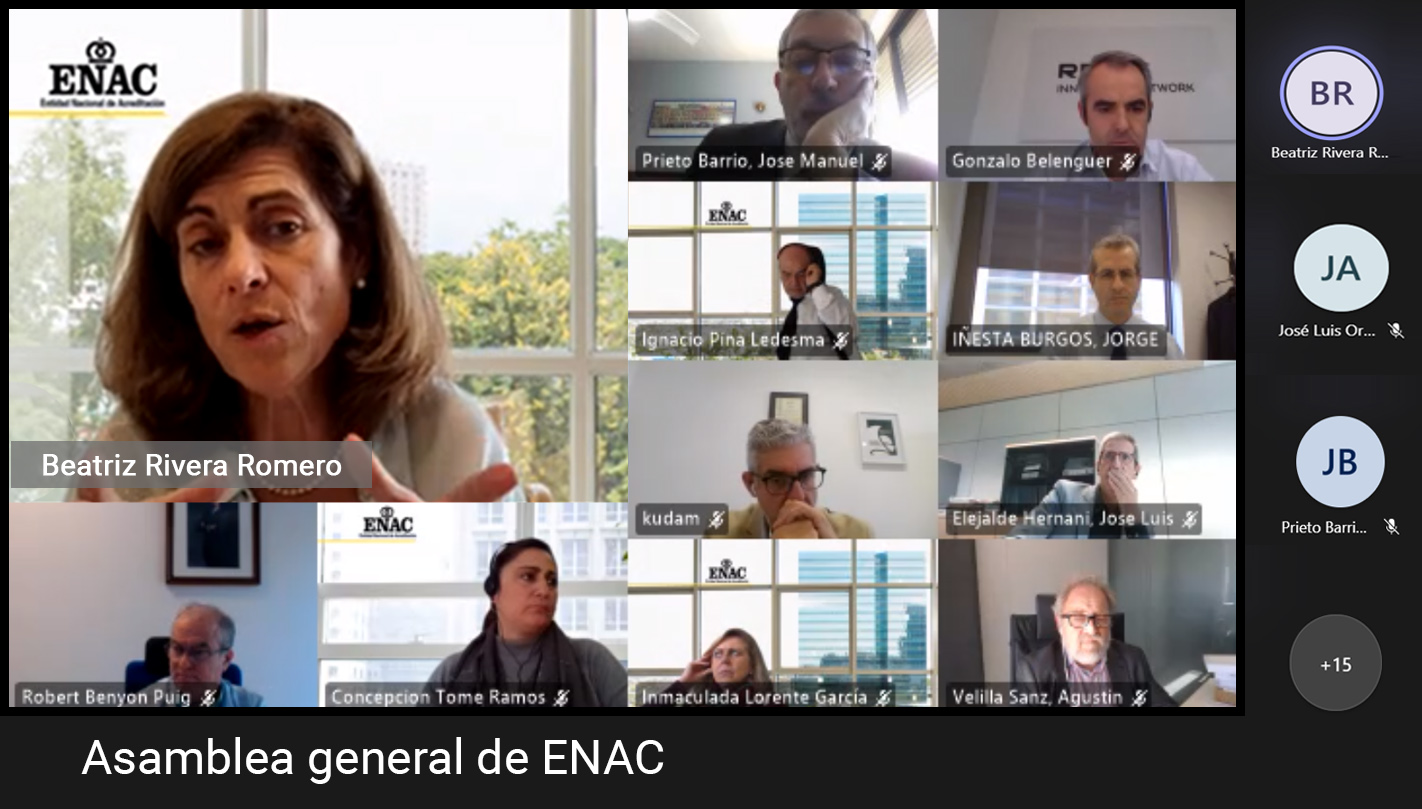 On Wednesday, December 15, ENAC's Ordinary General Assembly meeting was held, chaired by José Manuel Prieto. During the Assembly, Beatriz Rivera, ENAC General Manager, took stock of ENAC's activities in 2021, in addition to presenting the budget plans for next year and announcing the new plan of activities.
José Manuel Prieto wanted to stress to the Assembly that ENAC's accreditation "has continued to respond to the needs of companies, the Administration and society in a year as complicated as 2021, in which all economic bodies have had to adapt to the new circumstances arising from the COVID-19 pandemic as a global social and economic turning point. ENAC's accreditation has been, once again, the most effective tool for providing guarantees in the assessment and control of our country's products and services".
Prieto highlighted the value that accredited conformity assessment has in times of economic and social uncertainty due to its potential to generate confidence. Therefore, he explained: "ENAC is going to make an economic effort to ensure that accreditation is not one of the numerous cost increases that conformity assessors, like all companies, must face in 2022". It has therefore been decided to keep the rates stable for another year, so in 2022 the accreditation rates will be at 2017 levels.
For her part, the General Manager highlighted ENAC's commitment in recent years to digitalization, which in the current context has been key for managing its activity in the current conditions: "in 2020 and 2021, we have shown that the accreditation process has been able to adapt to the needs of the market without compromising, in any way, the effectiveness of the assessments".
Finally, the president thanked the more than 1800 accredited bodies "for the commendable work carried out over the last year, being, once again, key instruments for increasing the Spanish economy's competitiveness". "I am sure", stressed José Manuel Prieto "that, in 2022, accredited services will continue to be an essential pillar on which current challenges such as economic recovery, digitalization or sustainable development within the circular economy framework will be based".

Accreditation News is published quarterly and sent to organizations and to people who have asked to be included on its mailing list.
Would you like to receive a free copy of Accreditation News? Subscribe here.