Atrás
onkologikoa-anatomopathological-lung-cancer
Onkologikoa Fundazioa: first organization accredited for anatomopathological studies of lung cancer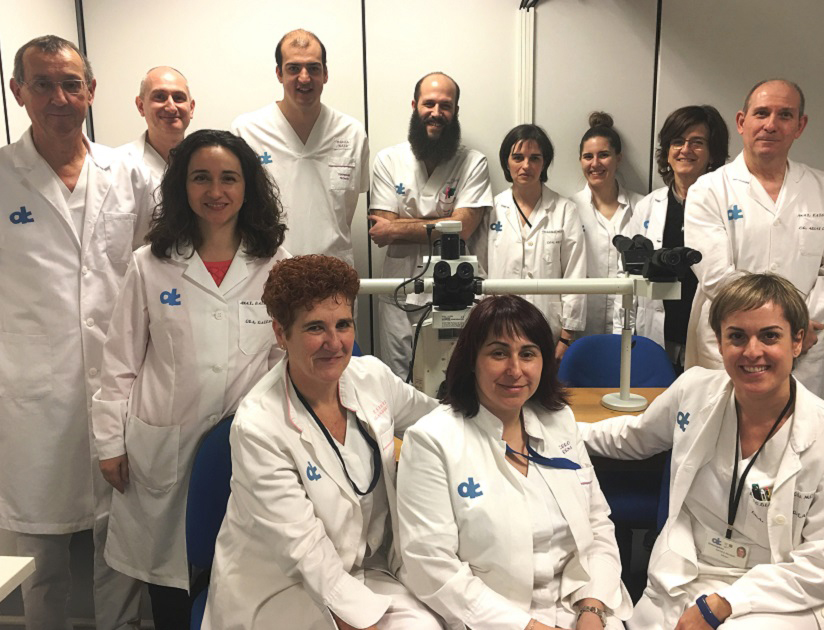 The Onkologikoa Fundazioa Foundation, an Oncology Institute dedicated to cancer prevention, diagnosis, research and treatment, whose Department of Pathology has been accredited according to UNE-EN ISO 15189 standard, becomes the first accredited in lung histopathology and Cytopathology.
In addition, Onkologikoa Fundazioa also has been accredited for the study of mutations in the EGFR gene both in tumour tissues and from patient's blood samples, enabling them to choose the most effective therapy in certain types of lung cancer tumours.
For Dr. Kepa Elorriaga, Head Clinician at Onkologikoa's pathological anatomy Service, for this type of study accreditation is a quality guarantee for the diagnostic process:
"The histopathological diagnosis of lung cancer makes classic techniques such as histopathology and cytology more accurate, including immunohistochemical studies, as well as molecular biology techniques with in-situ hybridization by fluorescence, molecular studies with PCR and the latest liquid biopsy for patient diagnosis and follow-up. Being accredited in this is backing the quality of the entire lung cancer diagnosis process, which in turn forces us to maintain high quality standards in all the Department of Pathology's processes, including those that are not directly related to lung cancer".
The anatomical-pathological studies performed on lung cancer tumour tissue enable us to know the type of tumour and to make an accurate diagnosis of the disease, as well as providing us with useful information on the most beneficial therapy choice for the patient. Therefore, the head of the Department of Pathology also considered accreditation clearly benefits the patient:
"Setting up the ISO 15189 benefits the patient by getting reliable, reproduceable diagnostic results, by following protocols and national and international quality standards performed by highly scientific and technical medical specialist personnel who affect the maximum diagnostic level and decrease misdiagnoses. It also allows the Hospital to more confidently participate in clinical trials and research studies".
These processes are inspected taking protocols, guidelines and recommendations developed by national or international scientific societies into account, in addition to the UNE-EN ISO 15189 standard of reference. For the Foundation, the medical societies' recognition has been critical for opting to certify their service:
"The main motivation for applying for accreditation has been from the Spanish Society of Pathological Anatomy (SEAP) pushing for pathology services to be certified with the ISO 15189 to increase these services quality and recognition" explains Dr. Kepa Elorriaga.
Health and cancer diagnosis sector accreditation
Quality and safety are two key elements for guaranteeing a health system according to current needs. The ENAC accreditation provides confidence at the different stages of health service provision (diagnostic, treatment and patient care etc.): it is a sector which increasingly uses accreditation as an instrument of safety and control.
The UNE-EN ISO 15189 standard is the standard specifically focused on the patient as the central focus of medical laboratory activity. ENAC has accredited laboratories of different specialties (Immunology, biochemistry, genetics, microbiology, haematology) and with different expertise levels, from national reference centres to public and private routine and emergency hospital laboratories.
Pathological anatomy is the clinical area related to the fight against cancer where the greatest increase in UNE-EN ISO 15189 standard accreditation activity is taking place; histopathology accreditations in some areas such as breast cancer, gastroenterology, dermatology, gynaecology, pancreas and liver.
Likewise, since the first accreditation in 2009, the EGFR gene mutational studies accreditations have increased significantly in recent years, already 10 have been granted accreditation.

Accreditation News is published quarterly and sent to organizations and to people who have asked to be included on its mailing list.
Would you like to receive a free copy of Accreditation News? Subscribe here.